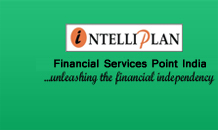 Firm Profile
Intelliplan financial Services Point India is a highly qualified, seasoned Financial Services firm founded by Mr Sandeep Kumar Upadhyay- an M.B.A. and CFP CM certificant with 14+years of extensive experience in various areas of financial services industry including banking, equity research, asset management and wealth management. Sandeep has been handling Private Clients Division in Wealth Management space.
This has provided us with requisite domain knowledge across financial markets and enhanced our ability to provide appropriate financial solutions. Know more about the founder at Linkedin.

Wealth Management is a highly personal process and each of our client works directly unlike bank where there is a relationship manager which changes very often!

Financial Services - many people think that Financial Services is a once-and-done event that starts with the number crunching and ends with excel sheet analysis and pie charts. But that's not what true Financial Services is about. Financial Services is a comprehensive, ongoing approach that starts with helping you estimate your dreams in monetary terms, developing a plan to help you get there, then tracking your progress along the way, recommending changes where needed.

With a fleet of financial experts we at Intelliplan financial Services Point India, dedicated to provide full service in Financial Services and wealth management. We are having tie ups with almost all the mutual fund companies, equity broking, annuities, insurance, fixed deposits of non banking financial companies etc. and we have entire gamut of financial products. The company is designed to meet the needs of individuals, closely held businesses & non-profit organizations. The firm is committed to provide high quality professional services with a personal touch.

Our goal is to be your and your family's life time financial advisor. We bring to each client extremely qualified individuals with diverse areas of specialization as well as with general financial consultancy background.

Our Mission
At Intelliplan - Financial Services India, our mission is to increase the net financial worth of our clients through a relationship built on personal trust & company – wide integrity.

Our View
We view every client relationship like a partnership and truly believe that our success is a result of your success.

Our Commitment
We are committed to provide close personal attention to our clients. We take pride in giving you the assurance that the personal assistance you receive comes from years of advanced training, technical experience and financial acumen. Our continual investment of time and resources in professional continuous education, state-of-the art computer technology & extensive business relationships is indicative of our commitment to excellence.

Our Goal
One of our primary goals is to become a trusted advisor to our clients and always be available to provide insight and helpful advice that will allow our clients to make informed financial decisions.

Our Vision
Our vision is to make people sense the financial freedom and become financially independent.